*** In-person CalFresh assistance services will be suspended.  We will be assisting students virtually until in-person classes resume. Students can email calfresh@sfsu.edu for CalFresh assistance (screening, application assistance, questions, and troubleshooting). Zoom appointments are available upon request.***
Do you need helping paying for food? Visit the CalFresh Help Clinic to see if you qualify for CalFresh, a program that gives you money each month to buy groceries. You can meet with one of our CalFresh Navi-Gators to learn more about the program, start your online application, and connect with free food resources on campus.
To Apply Online Without Assistance: 
Step #1- Start your application online now! 
Step #2- Complete your phone interview- after submitting your online application a County Eligibility Worker will call you within 10 business days. Be sure to answer any unknown phone numbers, the County will NOT leave a message and will NOT call you back. If you miss your phone interview, your case will be automatically closed and you will need to re-submit your application online again.  
Step #3- After your phone interview you will be instructed to collect verification documents that may include: 
Class schedule (SFSU Gateway Portal)

Financial Aid verification e.g CalGrant A/B, Work Study or EOP letter (SFSU Gateway Portal or ask your EOP advisor)

Pay stubs (if you are working) 
If you need help gathering these documents please visit the CalFresh Help Clinic or email calfresh@sfsu.edu  
Step #4- Receive your EBT card in the mail
Step #5- Activate your EBT card
Step #6- Re-certify your benefits every 6 months, visit the CalFresh Help Clinic or email calfresh@sfsu.edu for help.  
California Pandemic EBT: Free food money for children who receive free or reduced-price or school meals.
Do you have a child who is eligible to receive free, or reduced-price, school meals? Or does your child's school provide all school meals for free? If yes, you may be eligible for Pandemic EBT (P-EBT).
Qualified applicants can get up to $365 per child to spend on groceries. For more information check out the P-EBT Eligibility guide and the CDSS P-EBT toolkit.
To apply start your P-EBT Application today!
If you are approved for CalFresh you will receive an EBT card that looks like a debit card. You can use this card to purchase food at most grocery stores and farmers' markets.
To be eligible for CalFresh you must:
Make between $0 - $2010 per month for a household of 1
Have U.S. citizenship, permanent residency, U/T Visa or refugee status
Not have a meal plan from the University that covers 2+ meals per day
If you are younger than 22 and live with your parents, you must apply with your family (if you are over 22 you can apply on your own)
If you are over 18 and do not live with your parents you can apply on your own
Student must meet at least ONE of the following exemptions:

Work an average of 20 hours/week or more
Be approved for and accepted Work Study
Enrolled in EOP, MESA, or Guardian Scholars Program
Have a child under 12
Receiving Cal Grant A or B
Other exemptions may apply
**If you have a meal plan from the University, and receive 2+ meals per day, unfortunately you will not qualify for CalFresh. We recommend applying at a later time when you no longer have a meal plan.**
Yourself! You will eventually need to gather verification documents to complete your application. Your CalFresh Navi-Gator can help you figure out which documents you need and how to get them.
CalFresh Navi-Gators are students trained to assist other students with applying for CalFresh. CalFresh Navi-Gators volunteer one hour per week for the semester in the CalFresh Help Clinic, AS Food Pantry or AS Farmers Market.  
To become a CalFresh Navi-Gator you must: 
Be an SF State student, all majors welcome. No experience required
Commit to one hour per week for the semester 
Attend a CalFresh Navi-Gator training- held at the start of each semester
Trainings are held once per semester. To find out when the next training will be please email, calfresh@sfsu.edu 
You can begin a USDA Program Discrimination Complaint by following the directions on this complaint form.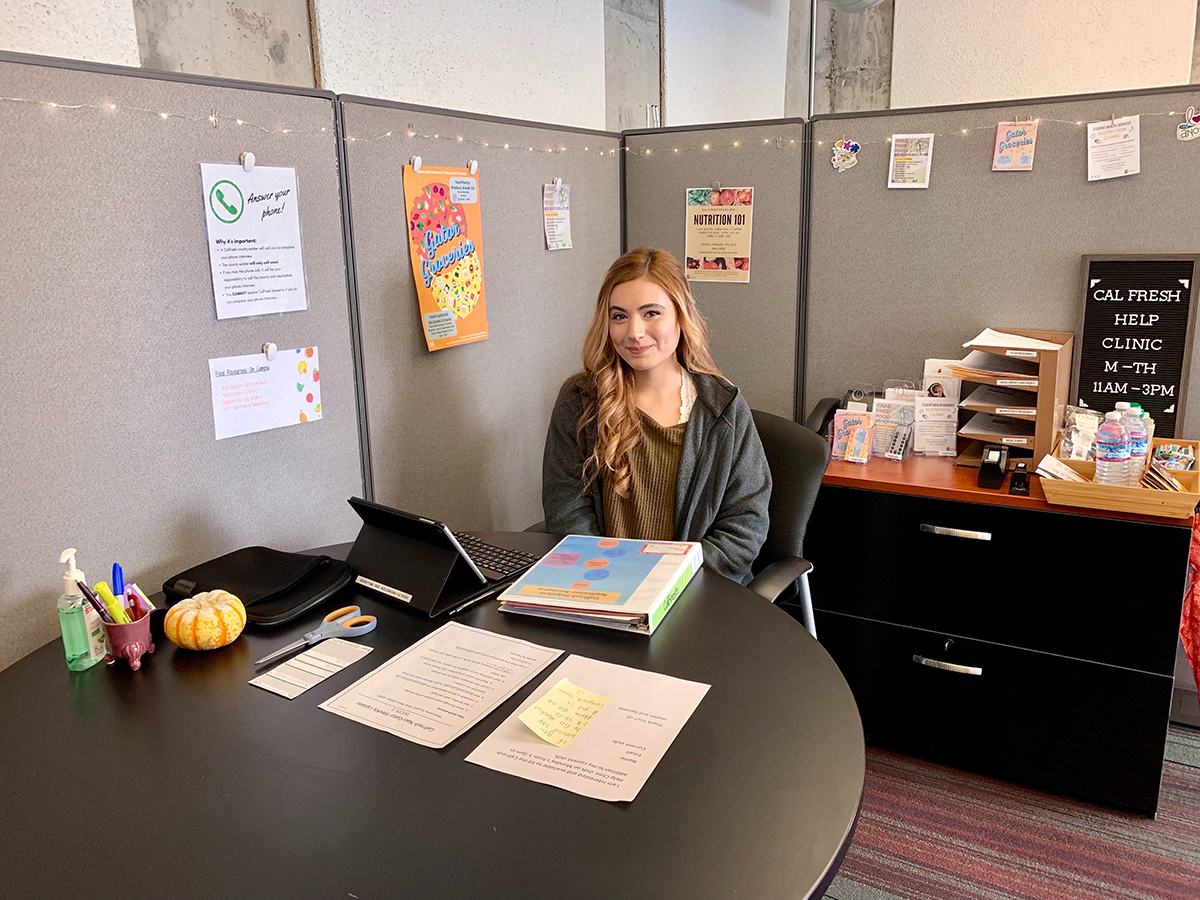 Need Help?
Virtual assistance is available. Email calfresh@sfsu.edu.
Location: 
Health Promotion & Wellness: 750 Font Blvd., Suite 5000 (Across from Mashouf Wellness Center & City Eats).
Got Questions?
Email calfresh@sfsu.edu