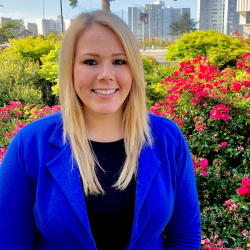 Jewlee Gardner, MPH (she/her/hers)
Assistant Director for Basic Needs Initiatives
Jewlee Gardner collaboratively leads San Francisco State University's response to food insecurity and housing instability. Jewlee believes that in order for students to survive, thrive and reach their full potential at San Francisco State, students need access to stable, meaningful and dignified fundamental resources including quality food and housing.
Fun Fact: Jewlee is a double alumni of San Francisco State University, she studied a B.S. in Health Education and a Masters of Public Health.
Email: jewlee@sfsu.edu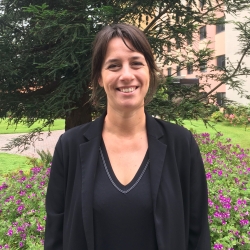 Karen Boyce, LCSW (she/her/hers)
Director, Health Promotion & Wellness
Karen Boyce is Director of Health Promotion & Wellness and a licensed clinical social worker. Karen believes health equity is the at the core of all health promotion efforts. Therefore it is imperative that all efforts to improve health also address equitable access to food, housing, and health services.
Fun Fact: Karen has over 50 first and second cousins.
Email: boycek@sfsu.edu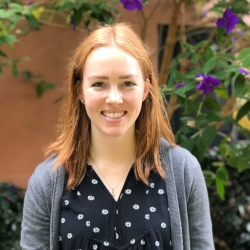 Danielle Lundstrom, MPH, RD (she/her/hers)
Nutrition Education Coordinator
Danielle currently manages the SF State CalFresh Help Clinic, which helps students expand their monthly grocery budget. Danielle believes that food security means not just having access to enough food, but access to food that is nutritious, supports health and well-being, and enables students to be successful learners.
Fun Fact: Danielle did a global health field experience in Ethiopia!
Email: calfresh@sfsu.edu
Stephanie Porcell (she/her/hers)
Student Housing Stability Coordinator, Providing Assistance to Housing Solutions (PATHS) Program
Steph believes in the power of every student, and is honored to be a direct, authentic, and safe support to those navigating housing crises. Informed by her intersections as a queer, mixed latinx with lived experience, she strives to be a visible provider that advocates for a trauma informed, strength based, and cohesive higher ed community united in our efforts to holistically combat housing instability. 
Fun Fact: Steph was a previous staff member with EOP & the Guardian Scholars Program, and has a dog daughter/ESA named Riley. 
Email: sporcell@sfsu.edu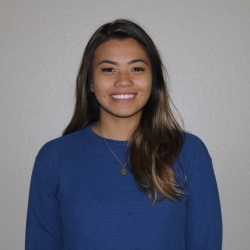 KC Agramon (she/her/hers) 
Basic Needs Health Education Assistant
KC is a third year majoring in Public Health. She has lived in San Francisco since she was 8. She's passionate about educating and directing students to resources that will help ease the basic needs crisis we have at SFSU. She strongly encourage students to reach to the Food + Shelter + Success team so we can all normalize student's basic needs being met! 
Fun Fact: KC runs long distance for fun.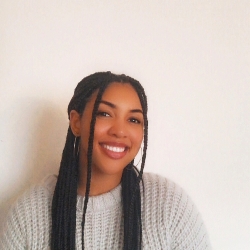 Victoria Haynes (she/her/hers)
CalFresh Health Education Assistant  
Victoria is a third year Nutrition and Dietetics major with a minor in Health Education from the city of Los Angeles, California. She believes that access to healthy food is vital when it comes to students performing academically at their best level, and by helping students apply for the Cal Fresh program, this will help lower the amount of food insecure students on campus. Victoria has volunteered as a CalFresh navigator and will continue her work to eliminate food insecurity at SFSU! 
Fun Fact: Victoria's goal is to join the Peace Corps in the future.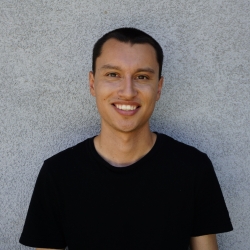 Justin Mendoza (he/him/his)
CalFresh Health Education Assistant
Justin is a senior in the dietetics program at San Francisco State University. He grew up in Baldwin Park, CA, where his passion for helping others in the community grew. Justin is excited to a part of a team that provides resources to promote health equity.
Fun Fact: Justin ran a marathon in San Francisco.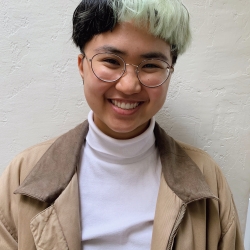 Elia Azazel Wee (they/them/their)
Basic Needs Health Education Assistant
Elia Azazel Wee is a Child and Adolescence Major with a concentration in Youth Work and Out of School Time. Working as an assistant for Basic Needs aligns with their goal of becoming a social worker. Additionally, they believe that accessibility to food, housing, and other essential resources is a human right and want to dedicate their time to students who need assistance. 
Fun Fact: Elia is a lifelong fan of Superman.