Welcome to the F+S+S blog! This blog is a space where basic needs student leaders share what they are learning and doing in the context of food and housing. Our content ranges from topics like saving money on textbooks, making food last longer, growing vegetables, and self-care routines. As college students, we understand the struggles of food and housing insecurity, and we are here to help empower our SF State family to achieve success with practices that can be applied to everyday life!
New Blog Post
Authors: Raine Yenlinn and Cindy Chu
Hello Gators! We wanted to check in with you all as midterms are around the corner!
Take a moment to breathe and give yourself a little pat on the back for getting through the first half of fall semester because from here on out, it's gonna go by so quick — from Thanksgiving to winter break. Don't forget to utilize TASC that is hosted at the library and virtually through Zoom!
Spending little as 30 seconds or a minute to check in with yourself and to breathe can be good enough!
Below are some quick meditation and guided breathing videos to help relieve stress:
If you'd like to become more active and get involved in something to really get that blood flowing (and maybe even meet new friends!), don't forget to check our Mashouf Wellness Center! There are many fun programs - like BARRE, body combat, and pilates - available for free for all students (except CEL and ALI students who are offered a membership fee). Check out all that they have to offer here!
But if you'd enjoy something that is a little less demanding, the Mashouf Wellness Center also offers Game Nights (on selected nights) and Wellness Wednesdays — more information here!
We would also like to take this time to remind you that Food+Shelter+Success is here to help all students who are currently facing an unexpected crisis that risks impeding on academic success. If you are searching for that support, fill out our form here, and we will get back to you as soon as possible. For general information about our Food+Shelter+Success department, check out our website here!
Aaand join us for Hunger and Homelessness Awareness Week happening from November 14th-18th. Stay tuned for events and prizes!
Here are some upcoming blogs to look out for:
Maximizing Your Grocery Shopping
Journaling 101
If there are any other topics you'd be interested in learning more about, feel free to reach out to us through our email at basicneeds@sfsu.edu
You're doing amazing, we're halfway done!!
Tips for School
Author: Janaveve Solis
Welcome back! With many of us preparing ourselves for the semester ahead of us, some of us are still struggling with how we can better manage our time and reach our goals moving forward. While we can't change that we only have 24 hours in a day, we can find ways to manage ourselves throughout each day.
Here are some helpful time management and goal setting tips to keep you grounded, organized, and productive throughout the semester:
Have a way to track or plan things that work for you
While notebook planners are very popular and useful these days, I was never able to keep a planner for more than a few weeks. I loved the idea of them but was never consistent with using one. If something doesn't work out for you, try something else that does! I found that using online calendars and apps, like Notion, worked best for me. Using your phone calendar or the Outlook calendar is a great way to track important events and dates that also come with the option of setting up reminders. Even using a blank notebook can be perfect if you want to create your own planner!
If you're interested in a physical planner, we have a limited number of academic budget planners, courtesy of Mstrpln, founded by Aja Dang. Email basicneeds@sfsu.edu to request one! (subject to availability)
Make realistic goals
I think we've all had the experience of wanting to get X, Y, and Z completed and ending up only finishing a fraction of those things. Sometimes, we take on more than we can actually handle which can make us feel more overwhelmed. Start by making realistic and measurable goals that you know you can get through, that way reaching the bigger goal in mind won't seem so far away. Even if you don't get everything done when you wanted to, you can at least feel accomplished for completing the smaller goals. Here's more information about goal setting using the SMART method!
Take Breaks!
If you feel like you're having a hard time focusing on the task at hand, it's not a bad idea to take a break. Even with our hectic schedules, breaks are essential for our brains to continue to work efficiently throughout the day and to avoid burnout. Even a 5-minute break can make a huge difference!
Reward Yourself
After a long week of school and work, I usually dedicate my Saturdays to relaxing and recharging as my reward. A reward can look different to everybody, just make sure it's something that you look forward to and that you will enjoy! Give yourself some credit for getting through the week and doing the best that you can.
Be patient and kind to yourself in the process when working on time management and reaching your goals. Not everything will be perfect and that's okay! Keep at it and have a great semester!
Author: Nazareth Bereket
We did it! We've made it to the final few weeks of our fall semester! I know at this point in the semester we're all extremely tired and ready to go on break, and trust me, I feel the same way.
As we head into finals, I just wanted to offer a few tips to make this finals season go as smoothly as it can for all of you.
Studying ahead of time:
Believe me when I say, if you have any exams coming up, studying for them in small increments will help you remember the material better! I completely understand wanting to cram it all during one study session, but trust me, if you split up your work, you're more likely to retain it for the exam.
Taking small breaks in between your work sessions:
I understand wanting to work through your break to get as much work done as you can, but in all honesty, this just might lead to more burn out. Allow yourself to take a break, reassess your situation, and when you've fully reset, go back into your work. Your mind and soul will thank you for this!
Taking a nap:
I know I've pulled enough all-nighters to last me a lifetime, and I know I'm definitely not alone on this one. Usually, medical professionals say that we need a full 8 hours of sleep to feel reset, but sometimes that's just not realistic if we have a stack of deadlines to get through. So, if you're planning to pull an all-nighter, please, please, PLEASE do yourself a big favor and make sure to give yourself some time to take a nap. At Least 2 hours just so you can get some work done and not feel half asleep while doing so.
Listing out all of your final assignments:
I've found it super helpful that when I feel stressed about finals, I just sit down and list out all of the final work I need to do, along with their due dates so I can complete the work in order of the due dates. This way, you won't miss any deadlines, and you can get your work done in a timely manner!
Finals season is definitely no joke, and I know we're all feeling exhausted at the moment, but please give yourself a moment to take a deep breath, drink some water, eat some food, and allow yourself some rest, because you deserve it. I'm wishing all of you the best of luck this finals season, and I hope you all have a wonderful holiday break! I'll see y'all next year!!
Author: Nazareth Bereket
Now by the time you see this, you'll either be starting midterms, in the middle of your midterms, or finishing up midterm week. Regardless, I wanted to share some tips on how to make it through midterm season (and if you already had your midterms, you can save this for next semester!)
First Tip: A planner is essential!
You definitely don't need to have a planner, but it sure helps make a busy week feel more organized. I use my planner to write out any and all assignments for the week, work schedules, and planning for meetings. There's two ways to go about getting a planner.
The first option:
Getting a bullet journal and creating your planner from scratch (for all my creative folks who love to draw, this ones for you!) This sort of journaling not only helps people stay organized, but it's a great way for you to be creative and customize your planner however you'd like.
The second option:
Getting a planner that's ready to use. Planners like these will have calendars you can refer to, and huge spaces to jot down all of your assignments and projects you have to do.
Second Tip: Office hours are beneficial!
I get it, sometimes the week gets way too busy and we don't want to go to office hours because it's time consuming. Or we're afraid that our professor is going to be super intimidating and avoiding office hours sounds like the best choice. Office hours can be a great way to A). be able to ask your professor any questions/comments/concerns you may have and B). get to know your professor!
Final Tip: Don't wait until the last minute to do your work!!
I know how tempting it is to want to leave your work until the last minute, especially if the due date isn't for another couple of weeks. Trust me when I say, if you work through your homework in fragments, it will save you so much time and stress! By the time you finish your assignment/studying, you'll have a bit more time for yourself since you did it early.
Good luck with midterms!
Author: Yazmin Hernandez Luna
Every year, college students spend on average $1,200 on textbooks and supplies for an academic school year and the cost of textbooks has been increasing for the past 30 years. The textbooks required for our courses are essential in succeeding academically, but the cost of textbooks can place a student in a sticky situation wondering if it's worth purchasing. As a student, I have explored numerous sites and found two websites where I can obtain my textbooks for free!
Disclaimer: I recommend using the two websites if your device has Anti-Virus protection. 
Z-Library provides a variety of books & articles for free in PDF form. The book can be searched using the book's ISBN or for a better search use the Title of the book.
Library Genesis is a file-sharing site with journal articles, general books, textbooks, images, comics, and magazines in PDF form for free. Simply enter the author, book title, or subject into the search bar, find & download the textbook. Once the textbook is found, click on the title than on the new redirected page, click on the title again, and press the "Get" link to download.
Some of our textbooks might not be available on Z-library and Library Genesis, but that's okay! Textbook Nova, Slugbooks, and Chegg are alternative resources for buying or renting textbooks at a great discounted price. Our SFSU Library is a great source for searching for books and recommends websites that may have the book you are looking for. Purchasing and/or renting books can affect a student's budget. If you are in need of financial assistance, I encourage you to check out Food + Shelter + Success economic support or the Hope Crisis Fund, a fund that assists students financially to stay on track with their academic success. 
Editor's Note, September 27, 2022 (Raine Yenlinn): 
Our school's Associated Students implemented a service that provides up to 2 free textbooks for students per semester, called Project Connect. Do note that it is on a first-come-first-served basis, so be sure to keep a lookout for application deadlines. Also, certain students are considered for priority like EOP, GSP, AB-540 students! For more information, check out their website here. 
Author: Isis Fields
Hey there fellow college students! Here at Food+Shelter+Success, we are so proud of you for taking the initiative towards higher education. We recognize you are at SF State making a difference while benefiting your future, life, and career. Keep up the hard work and check out these study skill life hacks to help maximize your academic skills!
What's your learning style?
School can be challenging; exploring more about how you learn can empower you to be your best student self. Part of improving your academic experience is understanding your preferred learning style. Several learning styles influence the way students retain knowledge. A common learning model is "VARK" which stands for visual, auditory, reading/writing, and kinesthetic. Knowing how you most effectively learn can help guide your study habits, teacher choices, and which programs and tutors could be of assistance to you. Finding opportunities to connect with other students that have similar study style can help you excel, and working with someone who learns differently can help challenge you to grow.
Practice
Studying smarter, not harder, can help avoid burnout. Once you explore which VARK learning styles work best for you, engage with some study practice! Reflect on your school, work, and test results to create study goals for yourself, integrating useful VARK strategies. Tip: Don't forget to consider your time, deadlines, and group cooperation.
Create Your Space
Improve your study experience by trying these best practices:
Allocate a set time, dedicated to only doing your schoolwork.
Create an environment that best helps motivate you.
Consider putting on some classical music or sounds of rain to keep you calm and focused.
Before getting into anything serious allow yourself to transition into a mind-frame. I encourage you to engage in a five to ten-minute meditation to minimize anxiety and to increase calmness.
Mindfulness is the name of the game, it is a self-assessment of the mind and the body working together. Being aware of how your physical needs are important to stay on track with the flow of work.
A simple walk around the block can be great to reintegrate your mind with your body to listen to its needs.
Eating healthy foods is necessary to fuel your body to take great action.
Fuel Your Mind
Your experience as a student is influenced by many factors, both challenging and helpful. We recognize that the basic need of having access to food impacts overall performance of work and daily life. Our desire is to best support you where you are. Food+Shelter+Success provides the opportunity to benefit from the three food programs; CalFresh Help Clinic, Associated Students Gator Groceries, and Emergency Meals. CalFresh Help Clinic may provide students with funds to buy groceries every month, while direct access to foods is available through the other programs. Please take advantage of these services, as they are meant to keep you sufficient as a developing student!
Author: KC Agramon
After this long and unusual semester, we are all looking forward to finally getting a relaxing break. There are a variety of ways to enjoy your time after the semester is over. Here are some things you can do to make this holiday break as productive as possible! 
But First Errands
For me, the first step to destress is to accomplish everything on my to-do list items; like going grocery shopping. Getting my errands done for the week gives me relief, because I know after I finish everything on my to-do list I can relax! Though getting my shopping done early can be a relief, if I do not have enough resources that week it can actually be more stressful than relaxing. If you feel the same or find yourself not having enough money to buy your groceries reach out to the CalFresh help clinic! CalFresh gives eligible students free grocery money. Do you need help applying? The CalFresh Help Clinic can help you with the application process if you don't know where to start.
Next Adventure!
Once you get your errands done you could also explore your city! I live in San Francisco and like to bike and walk to different locations in the city and enjoy the scenery here are some of my SF go-to's.
Lake Merced where you could enjoy nature and the lake.
Ocean beach where you can hear ocean waves and scenic views!
Embarcadero where you could see the bay bridge and if you walk far enough you could enjoy the pier.
You could also walk to Marina Green/ Crissy Fields where you could see the Golden Gate bridge, marsh, and the beach all within close location from one another!
If you're feeling like you just want to stay in one place and enjoy the views Palace of Fine Arts or Dolores Park might be the place for you. These two locations both have great picnic areas where you can sit by yourself or with family! You could also have your picnics on previous locations stated above (just make the most out of it)!
There are a variety of ways you can enjoy your break. These are resources and locations you can come to relive that stress and check off those items on your to-do list this break! Remember to follow the COVID guidelines and keep 6 ft away from each other during the break. Make sure that if you are not feeling well; make the choice to stay in and help reduce the rate of COVID. For more information on wellness and relaxation resources visit wellness.sfsu.edu. For more information for students facing housing or food insecurity visit basicneeds.sfsu.edu!
Author: Victoria Haynes
As the spring semester comes to an end and as finals are quickly approaching, it is important to remember that eating nutritious meals is an important part of your student success. Being a college student means always having a busy schedule, but with a few meal prep tips, you can save yourself time and stress! There are so many benefits to meal prepping, such as saving money, reducing food waste, and saving you time throughout the day and week. Let's start with these tips that will help you with the meal prep process:
1.) Remember the nourishing 4: Starch/carb, protein, fat, and fiber (fruit/vegetable) are the four food groups that are part of a balanced meal. You can use the Nourishing 4 as a template for creating a healthy meal by aiming to include at least three of these food groups for meals, and two for snacks. Healthy eating is going to look different for everyone depending on your needs, lifestyle, culture, and food preferences. Aiming to include at least three of these food groups for meals, and two for snacks is a great way to consume all the nourishing four. Check out the Nourishing 4 handout that goes into more detail!
2.) Write a weekly grocery list so that you only have to take one trip to the grocery store. This process will help you to save time when it's time to start cooking. When you're running short on time, the last thing you want to do is make several trips to the grocery store! Try and pick a day where you are the least busy.
3.) Limit yourself to meal prepping only one day a week. Meal prepping is all about investing time at the beginning of the week, so it saves you time later in the week. Limit your meal prepping to just one day a week (I personally love getting my meal prep done on Sundays, which is when I have the most time!), then keep your daily cooking to under 20 minutes a day (reserved for reheating and quickly cooking last-minute items). This will help make sure your meal prepping time is paying off!
4.) Opt for pre-made foods instead of completely homemade. Homemade marinades, broths, and sauces are amazing, but they take additional time. When time is short, use store-bought broth, herb pastes, pre-made sauces like tomato sauce and salsa, and canned beans. Not only will it save you time, but there are so many options available that you're sure to find something you like (or maybe try something new!).
5.) Plan out what you will be eating each day of the week. This will help you when grocery shopping for specific ingredients and you will be sure to consume nutritious meals throughout the week. Check out this meal planning tool to get you started! And don't forget you can always add in meals that you think you'll eat/order out for.
I encourage you to try meal prepping and see if it works for you! At San Francisco State University, Health Promotion & Wellness offers nutrition resources where you have access to healthy recipes (try and use these recipes for your meal prep!), nutrition and cooking demo workshops and videos, free food resources, and so much more!
You can also maximize your food resources by applying for CalFresh! CalFresh provides qualified applicants with free money for groceries each month. For application assistance, visit the CalFresh Help Clinic.
2022-23 Blog Authors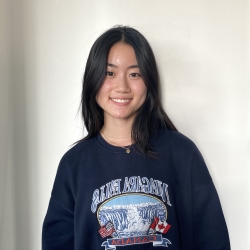 Cindy Chu
Hii everyone I'm Cindy (she/her) majoring in Cell and Molecular Biology. Aside from contemplating my future, I enjoy cooking, finding new places to eat (!!), hiking, playing tennis, and staying in watching Netflix. I also have a fluffy standard poodle who loves dismantling tennis balls. His name is Fluffy. I adore him very much. Looking forward to being one of the F+S+S blog authors this year!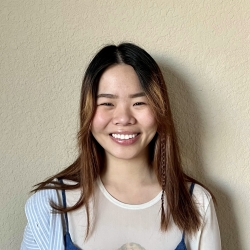 Raine Yenlinn
Hello! I'm Raine (she/her) and this is my first year at SFSU! I recently transferred from Las Positas College, initially pursuing Global Studies, but decided to do a little switch to Environmental Studies (nothing like a major change halfway through) because new city obviously means new major. I was born in Singapore, but grew up in the Bay Area and have since moved further inland towards Central Valley. Since COVID started, I've come to enjoy and fully appreciate just being in my own space — I'm most in my element when I'm napping in bed with my dog. That said, I do love ceramics, thrifting, going to the movies (just for the vibes), eating good food (send me the best Singaporean restaurants in the area please!), and exploring new places!
2021-22 Blog Authors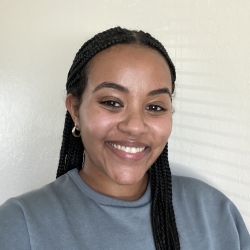 Nazareth Bereket
Hey everyone! My name is Nazareth (she/her), and I'm a 4th year at SF state. I'm a Public health major and minoring in Women's health. My interests include binge watching tv shows like The 100 or Manifest, trying new foods/drinks/snacks, finding new places to explore where I live, and singing. I'm so excited to be joining this blog for the year, and I can't wait to share my thoughts and ideas with you!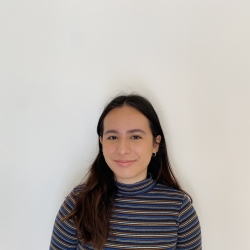 Janaveve Solis
Hi! I'm Janaveve Solis (she/her). I am a Nutrition and Dietetics major with a minor in Holistic Health. I consider myself an introvert, but I truly enjoy getting to know other people when I have the opportunity. I love finding different ways to express and practice my creativity through activities like crocheting, painting (on rare occasions), doing makeup, and cooking. I love food and trying new foods! Other times, I like to connect with myself and the world around me by meditating, exploring new places with family and friends, listening to music, and being in nature. I am very passionate about health and wellness, and I look forward to contributing to the well-being of others from diverse backgrounds.
2020-21 Blog Authors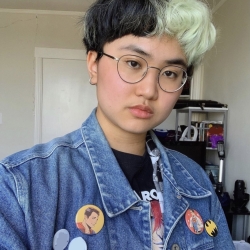 Elia Azazel
Hello, I'm Elia Azazel! I am a Child & Adolescence Development major and one of the F+S+S assistants! I am a consumer of many types of media such as video games, comics, tv shows, podcasts, films, and anything horror. Some of my favorite things are Batman V Superman (the director's cut of course) and The Magnus Archives podcast.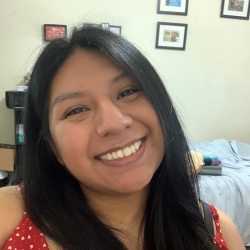 Yazmin Hernandez Luna
Ciao! I'm Yazmin Hernandez Luna, born and raised in Los Angeles California, and a first-generation college student whose major is in Public Health. I am a very introverted person but, once I get comfortable, the goofy side and very sarcastic me come to life. When I am not in school, I love to do activities like painting, reading books, learning a new language, and participating in outdoor activities.  At a young age, I was always taught that I should always lend a helping hand to others and this lesson motivated me into creating beautiful and informational content that may inspire and help other SFSU students in achieving their goals.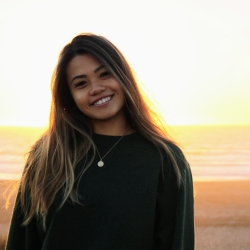 KC Agramon
Hey! I'm KC Agramon. I'm a junior, majoring in Public Health. I'm an adventurer; I love exploring the city as well as finding parks in SF to have picnics in or read books at. I love running before the sun comes out in the morning to start off my day. I think the best way to end my day is to watch the sunset or to go biking before the sun comes down!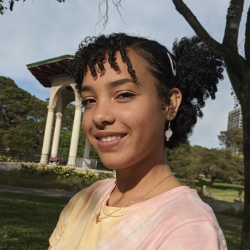 Isis Fields
Hi! I'm Isis Fields. I am a fourth-year public health student. I enjoy riding my bike and exploring all over the Bay Area. I appreciate attending art conventions and events of all kinds. A few of my favorite ways to express myself are through painting and dancing. I am constantly inspired by Frida Kahlo and samba, bossa nova music. I'm motivated to grow and learn with others through shared experiences and use that to shape my community-oriented career. I look forward to expanding my academic limits and meeting people from different backgrounds.